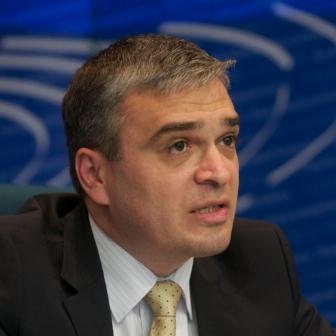 xxx days of unlawful imprisonment
The ASPS demands the immediate and unconditional release of Ilgar Mammadov, Director of the Baku School of Political Studies, who was wrongfully arrested by the Azerbaijani Authorities on 4 February 2013.
Second
edition
of
the
Civic
Roundtable
Strasbourg, 10-11 July 2017
The ASPS is pleased to report that the second edition of the Civic Roundtable, "Forced Migration and Asylum: Dynamics and Policy Responses in Europe and its Neighbourhood" proved to be a fruitful and productive opportunity for exchange.
Held in Strasbourg from 10-11 July, the Roundtable brought together 32 young professionals working in the field of migration, from governments, public bodies, think tanks, international organisations and NGOs. Over the course of the two days, participants shared experiences and good practices, looking at national and international policy responses. Specific topics of discussion included the growing anti-migrant populist rhetoric, the role of local authorities and civil society in the reception and integration of refugees, unaccompanied children and family reunification, and the prospect of setting up a CoE Academy for Democratic Leadership for persons with a refugee background.
Guest speakers included Tomas Bocek, the Special Representative of the Council of Europe on Migration and Refugees; Giulia Lagana from the Open Society European Policy Institute and Kilian Kleinschmidt, former manager of the Za'atari Refugee Camp in Jordan.
Working both in plenary and in smaller working groups, the Civic Roundtable offered young leaders to study trends and challenges across the European continent and beyond, as well as to build a peer network for future exchange.
The programme of the Civic Roundtable can be found here.
The summary report can be found here.
Free
Ilgar
Mammadov
now
say
Schools
of
Political
Studies
heads
The Association of Schools of Political Studies of the Council of Europe (ASPS) calls for the immediate release of Ilgar Mammadov, Director of the Baku School of Political Studies, who has been wrongfully imprisoned on politically motivated charges.
The charges brought against Mr. Mammadov, one of Azerbaijan's leading advocates for genuine democracy, are clearly politically motivated and aimed at silencing him through judicial harassment.
The Association, which brings together the leaders of 21 Schools in Europe and North Africa, called on Azerbaijan to respect its commitments to the Council of Europe and implement the ruling of the European Court of Human Rights, which found that the arrest and detention of their Azeri colleague in 2013 breached the European Convention on Human Rights.
Failure to act decisively on the Mammadov case and similar human rights violations by authoritarian regimes in Azerbaijan and other Council of Europe states is undermining the European project, bringing European institutions into disrepute and fuelling euro-scepticism.
A full list of statements and reactions to Ilgar Mammadov's imprisonment can be found here.